Esmè Coetzee
Property Finance Consultant
ooba, formerly MortgageSA, pioneered mortgage origination in South Africa and now offers a range of solutions to homebuyers. As South Africa's leading home loan originator, we can help you to not only finance your home with ease, but also see that you're well insured.

M.C. van der Berg Incorporated
Property Attorneys
M.C. van der Berg Incorporated is a well-established law firm specialising in conveyancing and property law since 1999. M.C. van der Berg Incorporated have a dynamic and positive team who believes that "people matter". M.C. van der Berg Incorporated strive to provide you with exceptional service whilst focusing on your needs. The speedy and effective transfer of your property remains the most important aspect of our mandate.

Woodhead Bigby Inc is an experienced and diverse law firm, offering quick and practical solutions in branches of the law which it is consulted.

The company offers expertise in all aspects of business and commercial law, property, trusts and estates, labour, maritime, banking and tax law. It also has a strong and effective litigation department and provides legal services to private and corporate clients, local and international insurance companies and various arms of the South African Government, including the South African Ports Authority.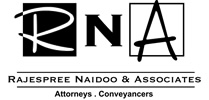 Rajespree Naidoo and Associates
Opening its door in 1996 Rajespree Naidoo & Associates commenced its humble beginning with a lawyer and a small staff. Today after 18 years we have grown to a medium size firm never forgetting the small firm approach to business ethics and client satisfaction. Our team boasts of a combined 66 years of conveyancing and legal experience. We have offices on the ridge in Umhlanga and are expanding to the Johannesburg market as the major banks appreciate the services and quality of our professional staff. A now family run business allows for maximum hands on approach to ensuring excellence. "Being a qualified Estate Agent with principal status as well as a qualified attorney and conveyancer, I have the knowledge and experience necessary to recognise the improvements necessary for success." - Rajespree Naidoo

Zeiler Jankey Attorneys & Conveyancers
Zeiler Jankey Attorneys & Conveyancers was established in 2007. Erryn Zeiler and Vaughn Jankey both were partners/directors in prominent Durban law firms prior to establishing their own firm. Erryn and Vaughn's long friendship started when Erryn served his articles at Ditz Inc which naturally progressed into the successful business relationship and continued friendship they now enjoy.

The firm operates from A-grade premises conveniently located in Durban North which boast modern offices supported by the latest information technology resources. At the core of our firm is the power of strategic planning backed by the necessary skills, capacity and experience to meet our client's diverse needs.

Providing innovative financing solutions to bodies corporate and home owner associations nationwide. Ensuring not only the financial sustainability of the schemes, but also the peace of mind of its owners and trustees.