Esmè Coetzee
Property Finance Consultant
ooba, formerly MortgageSA, pioneered mortgage origination in South Africa and now offers a range of solutions to homebuyers. As South Africa's leading home loan originator, we can help you to not only finance your home with ease, but also see that you're well insured.
Founded in 2017 by Riaan Klopper and Daniel Tau Phalane, PK Attorneys is a boutique legal firm committed to the effective finalisation of all legal matters and exceptional customer service. With a sincere appreciation for our clients, we are dedicated to going the extra mile for professional task completion. In addition to a strong focus on the registration of property transfers and bonds, PK Attorneys' services include property law and conveyancing, property developments, sales and lease agreements, contract law, notarial contracts, ante nuptial contracts, wills, and divorce litigation. Our aim is to be at the forefront of property law, providing our clients with innovative and tailor-made solutions for their individual legal needs.
Olu Khonjwayo is the brain child behind Property Talk with Olu-K. She is an experienced and an award winning Property Consultant with a demonstrated history of working in the real estate industry. She has worked and aligned herself with well-known brands in real estate: DPG, RAWSON and SEEFF amongst others.

She prides herself in keeping up to date with trends in the market and using this knowledge to help property buyers,sellers,tenants,etc. make well informed decisions. She is passionate about community development projects and property investment.
LP Baartman Attorneys has been operating since 1999 and is B-BBEE Level 2 certified. Our firm focuses on staying current with the promise to make a positive difference to every client in contact with us and to actively pursue opportunities to contribute to the growth of an inclusive and diverse South Africa. We are an ambitious, forward thinking provider of legal services and deliver a professional, high quality service that is both tailored and cost-effective to our clients. LP Baartman Attorneys serves companies, government as well as financial institutions and our long history as a firm uniquely places us in a position to help our clients resolve their most complex legal challenges. At LP Baartman we are passionate about using our extensive legal experience to get the best possible outcome each and every time, as we believe word of mouth referrals from satisfied clients are our best marketing message .

Our Services
Property Law - Criminal Law - Family Law - Personal Injury - Litigation - Business Corporate Law - Insurance Law

M.C. van der Berg Incorporated
Property Attorneys
M.C. van der Berg Incorporated is a well-established law firm specialising in conveyancing and property law since 1999. M.C. van der Berg Incorporated have a dynamic and positive team who believes that "people matter". M.C. van der Berg Incorporated strive to provide you with exceptional service whilst focusing on your needs. The speedy and effective transfer of your property remains the most important aspect of our mandate.

Woodhead Bigby Inc is an experienced and diverse law firm, offering quick and practical solutions in branches of the law which it is consulted.

The company offers expertise in all aspects of business and commercial law, property, trusts and estates, labour, maritime, banking and tax law. It also has a strong and effective litigation department and provides legal services to private and corporate clients, local and international insurance companies and various arms of the South African Government, including the South African Ports Authority.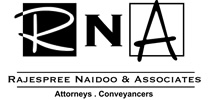 Rajespree Naidoo and Associates
Opening its door in 1996 Rajespree Naidoo & Associates commenced its humble beginning with a lawyer and a small staff. Today after 18 years we have grown to a medium size firm never forgetting the small firm approach to business ethics and client satisfaction. Our team boasts of a combined 66 years of conveyancing and legal experience. We have offices on the ridge in Umhlanga and are expanding to the Johannesburg market as the major banks appreciate the services and quality of our professional staff. A now family run business allows for maximum hands on approach to ensuring excellence. "Being a qualified Estate Agent with principal status as well as a qualified attorney and conveyancer, I have the knowledge and experience necessary to recognise the improvements necessary for success." - Rajespree Naidoo